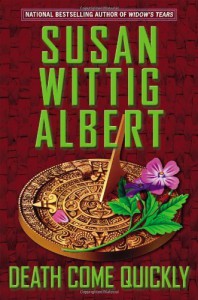 DEATH COME QUICKLY was sent to me by the publisher to review and is the first book I've read in the China Bayles series. I'll admit that when I purchase books, unless it's a series I already know, the cover is what draws me in. Don't get me wrong, the covers in this series are beautiful, they're just not the cozy covers I'm used to, so I never gave them a chance. Well, I'm happy the chance was given to me.
I enjoyed the way Ms. Albert started each chapter with "Herbs of Good and Ill Omen". It was extremely interesting to learn about the beliefs associated with all the different plants me mentioned.
I really liked the character China. She's a wonderful protagonist. I felt a connection with her right away. All the characters in the story are incredibly well written and so multidimensional.
The story itself is extremely compelling. Very detailed and intriguing. It had much more happening than the back cover description alone would lead you to believe. And it as a pleasant surprise to find recipes at the end of the book.
I now know what so many other readers before me already knew. . . . Susan Wittig Albert is a great author and she now has a new fan of the China Bayles series in me.